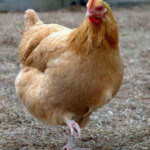 Choice Matters' 2011 Chicken of the Year Award Goes to
The Gang of Six
—Democratic County Legislator John Nonna and five of his fellow Democratic Legislators—for sitting down when they should have stood up!
After months of discussion, review, and dissection, the Clinic Access Bill—that would ensure women safe access to reproductive health centers—was voted out of Committee and sent to the Westchester County Board of Legislators for a vote.
All that was expected of the legislators was a vote.  A simple up or down vote.  Vote "YES" and we know that you stand with the women of Westchester; vote "N0" and we know you are against us. Really, that simple.
The Gang of Six had the opportunity to join with other Democratic and Republican legislators to vote to protect the safety of women entering and exiting reproductive health centers.  But, they chickened out.
What did this Democratic Gang of Six do instead? After three long hours of a Public Hearing, primarily by people who believe the fetus is more important than the woman and who have clearly never heard of the separation of Church and State, John Nonna – with his gang's support —recommitted the Bill. To recommit is basically a procedural move used to avoid a vote.  The Bill is sent back to Committee where it can easily be allowed to "die", perhaps never seeing the light of day again.  It is "again" because the last time that happened was more than a decade ago!!!
Make no mistake about it—this move by The Gang of Six to avoid a public vote was as much an anti-choice vote as any taken in Congress. The Gang of Six denied Westchester's women safe passage to accessing our constitutionally recognized rights to reproductive health care.
And the women of Westchester know The Gang of Six voted against women and are anti-choice. Since our last email we have received innumerable calls demanding to know when these Democrats became anti-choice–And by the way, that's the way we see it too.
This Gang of Democrats has made a very poor calculation and unwise decision. This Gang thinks we will not broadcast their actions because they are Democrats.
WRONG!
Choice Matters is a non-partisan organization and very proud of that fact. We hold all candidates and elected officials accountable, regardless of party affiliation and will continue to do so.
When the Republican-led House of Representatives passed legislation to let women die on a hospital floor rather than perform an abortion procedure that would save her life, we told you how many Republicans and Democrats voted in support of this anti-woman legislation.
Choice Matters will not protect legislators who turn their back on a woman's right to choose.
What you should know about The Gang of Six: 1). Each of these six legislators had previously committed to supporting clinic access legislation; 2). Each of these legislators is male and a Democrat; and 3). Three of these legislators were not re-elected.
We Challenge You,
Westchester County Board of Legislators!
There is a majority of County Legislators who claim to be pro-choice. If they are truly pro-choice, they must bring this legislation to the floor for a vote immediately.
We will then see who stands with us, and who stands against us.
If they do not bring it to the floor, or they voted against it, we will find candidates to challenge these legislators. We have no use for empty suits!
More than a decade ago, Senator Andrea Stewart Cousins and Assemblyman Tom Abinanti, then County Legislators, fought to ensure that women had safe access to women's reproductive health centers. Unfortunately, they were not successful.
It took us more than ten years to get to this point, and our "leaders" ignored us, turning back the clock.  No one can blame the Right-to-Life County Executive.  It didn't even get to his desk!
For the record, 1. The Bill was carefully reviewed to make sure that it was 100% in compliance with First Amendment rights – for all parties involved; and, 2. There is no other law–not state or federal–that presently protects Westchester's women's safety as they enter health centers.
We are putting you on notice,
County Legislators:
Stand up for the women of Westchester, or get replaced!!