Round #1: Retail
By Liza Lederer

One of the most challenging aspects of resisting oppressive regimes is working to ensure that your dollars aren't fueling the powers you're trying to resist.   In a capitalist country, where the dollar often speaks loudest, it's imperative that we spend our money with businesses that do not support – or better yet actively work against – the powers seeking to strip us of our rights.
So this new series of posts looks to inform you of the businesses you might currently patronize whose top representatives are actively supporting the Trump administration, and to provide you alternative businesses with better track records.
Put your money where your mouth is and move your purchases to businesses that aren't actively working to strip your rights away.
SHOP at REI
NOT at L.L. Bean 
L.L. Bean heiress Linda Bean is one of 50 family members who own and run the outdoors supply store. Bean spent the 2016 election season fundraising and donating to Donald Trump's political action committee. She is a member of the company's board of directors, and has longtime ties to the Republican party. Bean personally donated $60,000 to the Making America Great Again LLC.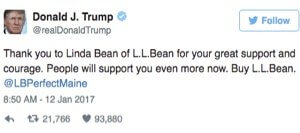 This donation flew largely under the radar until Trump himself tweeted a thank you to Bean for her support. While the LL Bean PR department rapidly got to work, insisting that the other family members had no such ties to Trump, and thus the company was not deserving of backlash for Linda Bean's actions, she remains a vocal member of the board, and a staunch supporter of racist, misogynistic, bigoted candidates.
REI has long held a sterling reputation as a fair employer, environmental advocate, and all-around excellent retailer of outdoor sporting supplies – And since the Trump inauguration, their progressive voice has only gotten louder. Shortly after Trumps signed his initial travel ban, CEO Jerry Stritzke sent a letter to his co-op employees:
"Over the course of the first week alone, we've witnessed actions that conflict with our co-op values on issues including climate, the environment, women's rights and the singling out of individuals based on nationality and belief," Stritzke writes. "These issues are core to the health of the outdoors and the ideals of our nation." "We are an organization, and a country, built on inclusion," he continues. "We believe we are better when we come together, when we are open and when we are welcoming. Accordingly, we do not support the executive order issued by the President on Friday regarding immigration. I have reached out personally to all employees currently in the immigration process to ensure they have the support they need."
Stritzke's words echo the history of actions of REI. The company leads volunteer programs around the world, helping to maintain parks and reduce the effects of climate change and human presence.   While we don't know how he votes, Stritzke's active stance against a hallmark of Trump's platform is a great reason to move your business to REI, to support an ethical employer with progressive ideals.
Here is a link to REI (coupons & all!)