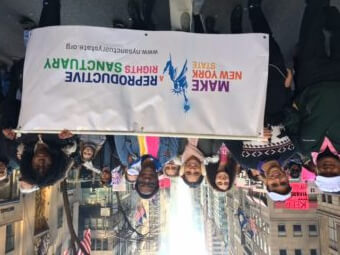 Today marks the 44th anniversary of the U.S Supreme Court decision, Roe v. Wade, which recognized that women have a constitutional right to have control over their own bodies.
Before Roe was decided on January 22, 1973, women fought for years for the right to have a safe, legal abortion. In Chicago, there was J.A.N.E., a secret group of primarily women who refused to stand by as women died in dirty back-alley abortions. Other women provided an "underground railroad" for those who needed to travel to get an abortion. Women, just as with the Suffrage Movement, courageously battled for years.
Yesterday, women stood together again in cities across the nation and countries around the world – and this time, some men stood with us. We will not stand idly by as our rights are trampled upon.
Here in New York, we officially launched our campaign, Make New York State a Reproductive Rights Sanctuary – and Governor Cuomo recognized it by announcing a contraceptive coverage administrative action that serves as a stopgap measure until we can get the Comprehensive Contraceptive Coverage Act (CCCA) passed by the New York State Senate. (The Assembly passed CCCA last Tuesday.)
Please note, an administrative action is NOT adequate. Like a president's Executive Order, it can be wiped away by a successor, just as we are witnessing Donald Trump act on his commitment to undo President Obama's Executive Orders.
Now the New York State Senate Must Join the Assembly in Standing up for All Women and pass the "Comprehensive" Contraceptive Coverage Act!
Join us and our Make New York State a Reproductive Rights Sanctuary campaign. Please sign our petition: Make New York State a Reproductive Rights Sanctuary. Please share the petition with your friends.
Together, like all who fought for Roe and for the right to vote, we stand united.
We are calling on the Governor to use the powers he demonstrated when he got the Senate to pass Marriage Equality, and Safe Gun and Anti-Fracking Legislation. Governor Cuomo must convince the seven rogue Democrats of the IDC to return to the Democratic Caucus, so that they can do what they were elected to do — the People's Business.