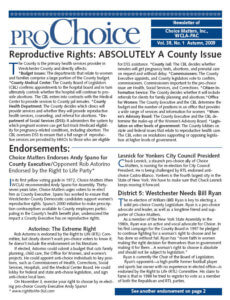 Are you PRO-CHOICE in Westchester County, NY? Here is the WCLA-Choice Matters Voting Guide. It tells you who is pro-choice in local elections. This year we are voting for Supreme Court Justices, County Court Judge, County Executive, District Attorney, County Clerk, and Westchester County Legislators. We have also made an endorsement this year for Yonkers City Council President.
These are local elections and very important. Local government plays a very important role in Choice decisions. Just read the Guide and you'll see how. Because many people do not bother to vote in local elections those of us who do have a far greater impact on the outcome.
If you need additional reasons to vote on November 3rd, please note: 1. There are more Right to Life endorsed candidates on the ballot this year than at any time during the Bush administration; and 2. Locally elected officials are the candidates for higher office tomorrow.
VOTE on Tuesday, November 3rd.
We ask for you to distribute this link far and wide to all of your pro-choice friends. It is your legal right to carry our voting guide into the voting booth with you.